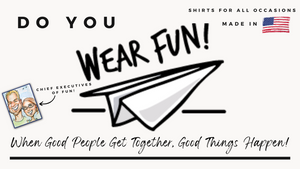 Chief Executives of Fun
Welcome and thanks for landing here!
Our tees are famous for their soft, easy going fit and rich colors. Designed and Created in the USA.
Take your time, look around and enjoy.  We are a fun, family friendly clothing company with goodies for all.
We love to live, live to love and enjoy making people smile.  If that sounds like you, then please join our Community!
XOXO- Chris & Lindsey Eberhard